Written By: Linda Romanello and Marc Loftus, Post Magazine
A decade ago, many in the film business would agree that a "digital intermediate" was the process that took place somewhere between the capturing of images on film and the delivery of those final, processed images for theatrical exhibition. Film would be scanned, files would be sent to editorial and VFX departments, and once post production was complete, material would be conformed and output to film once again. The "intermediate" stage was not only for editing and effects, but a place where color correction could be applied digitally too.
Today, many theatrical titles are captured digitally, posted digitally and presented digitally. So where does that leave the "intermediate" step?
"I couldn't agree more in the terms of the 'term' actually meaning something different than what actually happens," says Light Iron founder/VP of post production, Paul Geffre. "In terms of its function, it still functions as the same basic thing — it's the bridge between your offline creative edit and your final high-resolution, high-fidelity output. It is still an intermediate step. Technology hasn't gotten to the point where you are editing in your final deliverable format."
"I think 'digital intermediate' is a term that is being carried over from when it was shot film, it was scanned to a digital medium and then it would be shot back out to a negative to make prints that would go to theaters," adds Technicolor- PostWorks NY colorist Jack Lewars. "It was the digital 'intermediate' in between two 'log' type of situations. Nowadays, it's acquired digitally and going back out to theaters digitally. The name just carried on as a term of color correcting."
Technicolor-PostWorks NY's head of creative services Ben Murray agrees. "I think the spirit of the digital intermediate carries on in that the entire film is an effect. In that spirit, to this day and even more so, every shot in a film is a visual effect, and is an opportunity to minimize distractions and help storytellers focus their story and fix things until the last second. That wasn't possible before."
Here, Post looks at some recent DI work across the industry.
Modern VideoFilm Finishes Malick's Knight of Cups
Modern VideoFilm, with locations in Burbank and Santa Monica, CA, has been providing post and distribution services to the film, television and media content industries for more than 33 years. Most recently, the studio provided digital intermediate color grading and finishing services for director Terrence Malick's Knight of Cups, which stars Christian Bale, Natalie Portman and Cate Blanchett. The film made its world premiere in February at the 65th Berlin International Film Festival.
With the list of services the studio provides, it's positioned well to speak on the role of digital intermediates and, perhaps, how the term's meaning has changed over the years.
According to Amber Taylor, VP and GM at Modern VideoFilm, Santa Monica, "The original definition of 'digital intermediate' is rarely the reality now that the majority of filmmakers are shooting digital. However, many films are still going out to film as a deliverable, so part of the definition is still accurate. Maybe 'feature finishing' is a better term now?"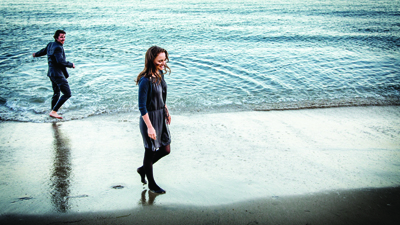 Knights of Cup was finished in 4K at Modern Videofilm.
Captured by cinematographer Emmanuel Lubezki, Knight of Cups was shot with "a myriad of digital and film cameras, mainly the Alexa, 35mm and 65mm," says Taylor. "Many filmmakers still do prefer to shoot on film," she adds. Terrence Malick and Emmanuel Lubzeki "chose to shoot a combination of film and digital for various creative feelings and textures throughout the film."
Knight of Cups was finished in 4K at Modern VideoFilm. Bryan McMahan was the digital intermediate colorist in his fourth collaboration with Malick, and with services that also included film scanning (in 4K), editorial finishing and deliverables (including 35mm film out).
"We did all final color in 4K and manufactured all deliverables," says Taylor. "Sources and VFX were all conformed using Pablo Rio in their original RAW camera format and provided out for color correction. Final color was rendered out as 4K DPX."
McMahan, who also colored the dailies, worked closely with Malick and Lubezki throughout the process of finalizing the film's look. He notes that the finished film, which centers on a Los Angeles screenwriter, appears unadulterated and natural, and that considerable effort was applied to achieve seamlessness between elements captured with different camera systems.
"It's beautifully shot," says McMahan. "Terry prefers a 'no look' look, as if you're looking out a window. He has a very sensitive eye and is very trusting with his collaborators regarding color."
Modern VideoFilm also performed post and finishing services on Fox Searchlight and Wes Anderson's Oscar winning feature, The Grand Budapest Hotel. Shot on film, the movie relied on the studio for telecine dailies, scanning, offline editing, on-site color correction, film out, DCP creation & delivery, home video mastering and on-site engineering support.
Cinelicious on Sundance: Boyhood and Beyond
Cinelicious, with locations in Hollywood and Santa Monica, is a creative studio that offers a host of post services that includes HD/2K/4K color grading for commercials, music videos and feature films, Flame VFX, creative finishing and VFX supervision, 2K/4K film scanning, final color for episodic television, restoration and, of course, film/digital dailies and DIs.
According to studio founder Paul Korver, "digital finish" is probably a more appropriate term to use today rather than digital intermediate for the services his studio offers. "You know, how it all came about: Things were shot on film and everything had to end up on film, and they would digitize the film in the middle and they would have more creative control over the final picture in color correction and visual effects by having a digital intermediate. But now, a lot of films are shot digitally. We just had two films at Sundance shot digitally."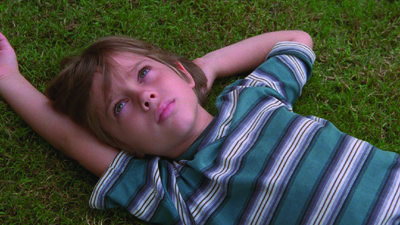 Richard Linklater's Oscar winning film, Boyhood.
The two films Korver is referring to are Rick Alverson's Entertainment, which Cinelicious completed the final color and mastering with colorist Lynette Duensing, and Gus Van Sant protégé Justin Kelly's I Am Michael, which was the first DI colored by Cinelicious' Tyler Fagerstrom, who previously collaborated with DP Chris Blauvelt to set the look for last year's Sundance Best Cinematography winner, Low Down.
"These films are labors of love," says Cinelicious' Korver. They previously contributed final film scanning or DI color for other Sundance breakouts, including Richard Linklater's Boyhood which, actually was shot on film.
"That was pretty challenging," says Korver. "The biggest challenge was the metadata loss. Over the 12 years, I think there was something like three different post houses that did the dailies — they were all standard definition dailies to 29:9:7 DV25 tapes — but there was no consistency in the metadata workflow."
"Basically what we had to do was, because the timecode did not match up between the video tape and the film boxes, we ended up having to manually change all the timecode data to keycode data just by looking at the keycode map and manually retype out every single shot of the entire movie, change it from timecode to keycode manually," adds Fagerstrom.
In all, it turned out to be around 120 to 200 hours of film.
"There was also a framing question," adds Korver. "I think they switched DPs at one point and then there was some question what the exact aspect ratio of the 35mm was. So we ended up scanning the film at 4K and down sampling it to 2½K, which they were finishing in 2K — finishing 2K from a 4K source — that gave them the ability to resize, or do a slight pan-and-scan if necessary for what the intended framing was."
So, according to Korver, the big "broadstrokes" that made the studio's work on Boyhood unusual were the metadata inconsistencies, scanning in 4K and delivering 2½K for a 2K finish, the conform, and then restoration work needed to make the film look pristine.
"In addition to a standard dust busting that you would do, we definitely had to address some scratches and this almost chemical stain," says Korver. "The film's been around for 12 years, so stuff happens."
To complete the entire project, the team relied on DFT's Scanity high dynamic range scanner, Phoenix Refine for restoration and DaVinci Resolve from Blackmagic for the conform.
"I'm really excited about where we're at right now," adds Korver. "It's an exciting time, and we're excited about the projects we get to work on. We get to work on a broad array of camera formats — both digital and film. We view both as valid creative languages. I think it's going to be a more immersive experience in the theater as we get better cameras systems and projection technology."
Inside MTI's Digital Finishing Services
"Most of our work is in television, so the term 'digital intermediate' doesn't apply," says Steve Porter, digital colorist, MTI Film. "Every show we work on is shot digitally. We color and finish digitally, and we export digitally. I haven't seen a piece of film in 10 years."
The studio, which is based in Hollywood, has been a known force in the post industry since it introduced its Correct DRS digital restoration system in 1997 for retouching, remastering, dustbusting and restoration. Services include high-quality dailies, editorial, visual effects, color correction and assembly for film, television and commercial projects.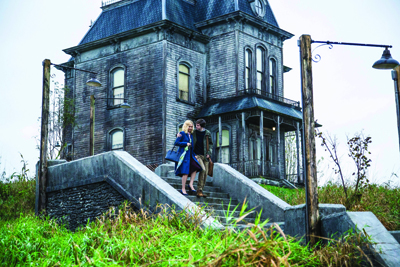 A&E's Bates Motel
According to Porter, "At MTI, the closest thing we do to DI is restoration. We have restored several films recently, including Forty Guns and All About Eve. In those instances, we scan the film, restore it and grade it, and export it back to film. But compared to our work in television, those projects are few and far between."
About 90 percent of the studio's work is acquired on Alexa and, says Porter, "that applies to The Returned, Bates Motel and Hell on Wheels. Longmire shoots on Red. With the rise of 4K, we are beginning to see more material from 4K cameras like the F55, but for the most part, we are an Alexa house. In any case, our process is the same. We have pre-production meetings with the clients to establish where and what they are planning to shoot. After the first day of shooting, I sit down with the dailies colorist and set the tone for the show. We create a template that is applied to files as they come in. We conform from camera original files. For Alexa material, they are untreated Log C. That's our starting point. We pull them in their purest form so that I have complete range to go wherever I want to go with contrast and color."
All of the shows the studio works on have visual effects that require Porter to do a digital rendering or background painting of the elements so that the visual effects can be put in the proper space. "After I color the elements, we send them to the VFX house in the form of a DPX array. They do the visual effects on top of that and send it back to us. I put it back into my timeline and match to whatever is around it. In terms of television deliverables, it's either an HDCAM SR or a file such as a ProRes 4:2:2 HQ. We are about to begin delivering to Netflix, which requires ProRes 4:4:4 wrapped in an IMF."
WorleyWorks Finishing Pakistan's First Animated Feature
Brooklyn, NY's WorleyWorks was founded by Greg and Minah Worley in 2007, and evolved from a motion-capture animation facility that provided pre-visualization for directors and feature films such as Darren Aronofsky's Noah. Boasting its cut, color and delivery services, the studio also provides support at all stages of post, including workflow design, suites for editorial and complete digital intermediate services.
"The term [DI] is outdated but the name survives," says Jack Reynolds, head of post at WorleyWorks. "It's generally considered to be relating to motion picture finishing rather than other delivery platforms, which traditionally required — and still does to some extent — a very specialist knowledge base and skillset. It's still useful in lieu of something more appropriate."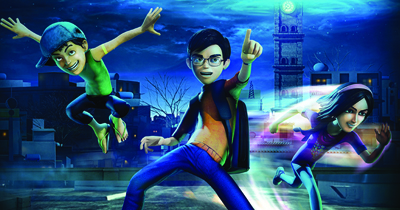 Animated film 3 Bahadur
The studio is currently working on Pakistan's first animated feature, 3 Bahadur, with Oscar-winner Sharmeen Obaid-Chinoy. According to Reynolds, the film was "animated in Pakistan by a small but talented group of animators and rendered to EXR in linear. We are lucky enough to be providing a full finish, which includes conform, color and mastering."
Reynolds says the team conformed and finished using "our Mistika, which allowed us to employ an invertible GLSL curve to convert the files from linear and various methods to access the extended range available within the files. The final deliverable was a DCP, in addition to this, for posterity we created an extensive archive of the project. Our processes are designed to be non-destructive and future proofing for things like extended dynamic range, which are important to us, and increasingly our clients. We delivered on just a regular EXT3-formatted drive and archived to LTO."
The film will be released at some point this year.
Light Iron handles Bad Asses' 4K DI
Light Iron (www.lightiron.com), with operations in LA and New York, has been collaborating with the team at Silver Nitrate for the better part of a decade. Recently, the studio partnered with director Craig Moss to provide DI services for Bad Asses on the Bayou, the latest theatrical title in the franchise, which is set for release this month. The film stars Danny Trejo and Danny Glover as Frank Vega and Bernie Pope, who join forces in Louisiana in an attempt to find a kidnapped friend.
Light Iron provided 4K DI services for the film, which was shot using Red Epic cameras, but also incorporates repurposed material. "They would use a scene from a movie that was already shot and take the scene of the larger movie and cut it into their movie to make their movie feel larger," explains Paul Geffre, VP of post production at Light Iron. "In the case of Bad Ass, they shot it Epic, but there's a pretty good-size chunk from a movie called Air America in the early '90s. They went back and scanned that at 4K, and we cut that into the movie. It was color corrected and we worked the digital footage around it to make it fit in the picture."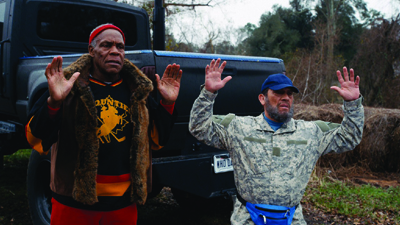 Light Iron completed 4K DI services for Bad Asses on the Bayou.
Paul Sage served as colorist on the feature and Matt Blackshear was the conform artist.
"You have to stretch your money as far as you can stretch it, and there are so many ways for filmmakers to do it that they never had before," says Geffre of the creative use of material.
Light Iron is a Quantel-based facility, with both Pablo and Rio systems. "About four years ago we made a conscious decision to move to Rio because it supported 4K in a better and faster way, which allowed us to do these smaller movies. One of the things we've always been proud of is, regardless of your movie's size, we have a home for you here. If you have a small movie, you don't get put in a small room in the middle of the night with a third-rate colorist."
In fact, the studio recently supported eight films that premiered at Sundance back in January. The Stanford Prison Experiment was just one of them, and according to Geffre, was posted in the same room and with the same talent that worked on David Fincher's successful 2014 release, Gone Girl.
Technicolor-PostWorks NY completes Ten Thousand Saints
Technicolor-PostWorks NY recently provided DI services for Ten Thousand Saints, a feature film that debuted at the Sundance Film Festival back in January. Directed by Shari Springer Berman and Robert Pulcini — both have worked with Technicolor-PostWorks NY in the past — Ten Thousand Saints is set in the 1980s and centers around a teenager from Vermont, who moves to New York City to live with his father in the East Village. It stars Hailee Steinfeld, Ethan Hawke and Asa Butterfield.
The feature was shot on Super 16, and according to colorist Jack Lewars, the format was well suited to depict the period in time in which the film takes place. "After doing so many digital films — that all look beautiful and amazing — you realize film, to me, is beautiful and can blow anything away. Especially for a period piece that takes place in the '80s. It was perfectly suited for their film."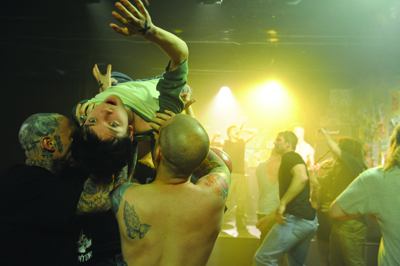 Feature Film Ten Thousand Saints.
Technicolor-PostWorks NY handled the dailies process, developing film and creating files for the Avid offline edit. According to head of creative services, Ben Murray, the film was scanned using a Spirit system, which is capable of 4K. "For this job we did a 2K scan," he notes, adding that the studio created its own intermediate for XML, which allows them to carry a lot of the effects across. "So instead of having to recreate match effects, all of the effects are there, and we can spend that time and energy improving upon effects instead of recreate things."
"We would get all that back and re-scan all the individual takes and assemble the movie in our Flame Premium system," adds Lewars of the online. "We also had to go through and do dirt removal, which you don't have to go through with digital, and dust bust everything, which took some time. The only thing we didn't do in terms of a traditional DI was go back out to film. We just did a final DCP, which we call the 'final print master.'"
Lewars, who uses Autodesk Lustre, helped refine the film's look through color. "Throughout the movie, we used a crossed, processed, bleach-bypass look to get the punk rock, grungy feel for it," he recalls. "It worked so well and the grain that the film brought to it really added some aesthetics. There are a lot of punk shows in the movie, and we were really able to enhance them with the color correction."
Since its Sundance premiere, Ten Thousand Saints has been picked up by Screen Media Films and is slated for a late summer release.