Cinematographer Christian Sprenger and Light Iron supervising colorist Steven Bodner collaborate to bring Heidi Schreck's play What the Constitution Means to Me to the screen.
Mixing personal biography and family history with the political and social sciences, Heidi Schreck's play What the Constitution Means to Me presents a profoundly intimate, relatable look at the hallowed document upon which the United States' government and laws function — or don't, depending on a person's point of view. In a single set designed to look like the wood-paneled interior of a Veterans of Foreign Wars hall, Schreck moves back and forth between her present-day persona and her teenage self, when she was regularly participating in constitutional debates. Written by and starring Schreck, the play marvels at the Constitution's strengths while simultaneously having the courage to ask whether "we the people" could be better served by an all-new constitution, one that might be more representative of our 21st-century principles.
First presented in 2017, the show enjoyed a hugely successful stay on Broadway from March through August 2019. Just before the Broadway run concluded, director Marielle Heller oversaw a filmed version that premiered last month on Amazon Prime Video. As cinematographer Christian Sprenger explains, "We recorded the full play twice in one day with a live audience, and then we spent a second day shooting pickups for moments we felt needed additional coverage or angles we couldn't get when there was a full audience. But more than 90 percent of what you see was shot with the live audience. That was what felt the most authentic."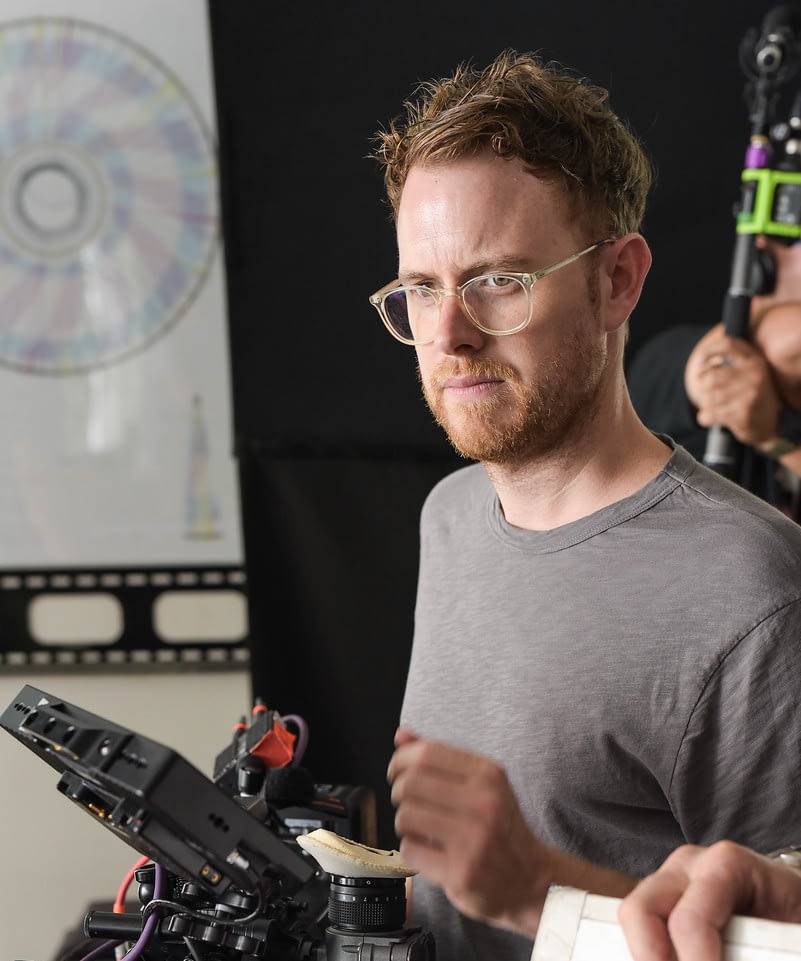 The filmmakers partnered with Light Iron for the project's final coloring, collaborating with New York-based supervising colorist Steven Bodner. "Light Iron felt like the obvious choice for multiple reasons," Sprenger offers. "We wanted to color in New York, and we knew it would be a remote situation. We had a conversation about who [production company] Big Beach had worked with previously, and Mari had colored with Light Iron before, and I've colored with Light Iron many times."
Although Sprenger hadn't previously worked with Bodner, "I've loved his work and been a fan of his for a while," the cinematographer shares. "When I saw he was available, I said, 'Oh, we've got to get him!' And Mari was super-excited as well." For the director, that enthusiasm sprang from past experience. As Bodner notes, "I'd worked with Mari on Can You Ever Forgive Me?, and then I just colored the TV series that she stars in, Queen's Gambit. The shorthand from past working relationships comes in really handy, especially with these remote reviews."
Can You Ever Forgive Me? had paired Heller with cinematographer Brandon Trost, whom she called on again for some subsequent shooting for What the Constitution Means to Me in early 2020, at which point Sprenger was committed to another project. Constitution marked the first collaboration between Heller and Sprenger, and the cinematographer "jumped at the opportunity," he says. "My wife and I were living and working in New York at the time, and we had already seen the show. I thought, 'What an incredible opportunity to be a part of something that matters so much and could have such an impact.'"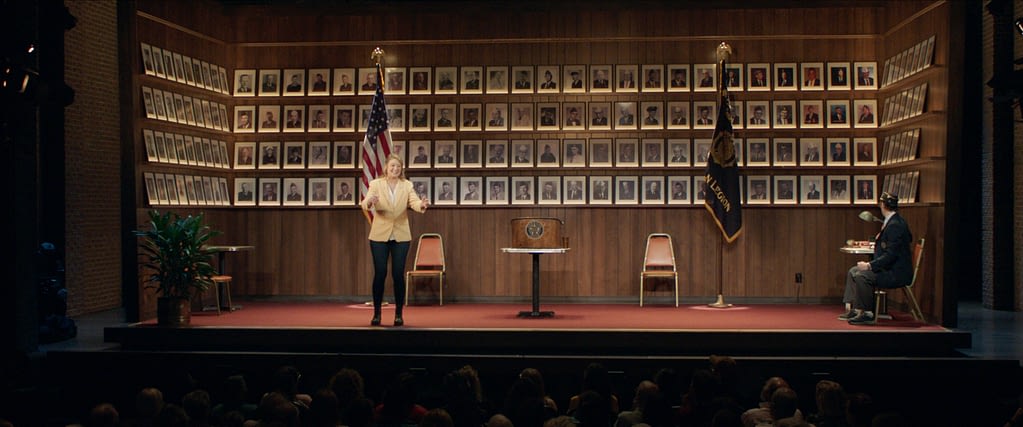 Sprenger was also drawn to the fact that shooting a live Broadway performance was "very much outside of my wheelhouse," he says. "The closest thing I had ever done was earlier in 2019, when I was the director of photography for the Childish Gambino live stream at Coachella. That had been the only multicam project that I had worked on as a DP."
Constitution was a similarly new experience for Heller. "In some ways that alleviated the pressure because we weren't pretending we knew what we were doing," Sprenger notes with a laugh. "Mari didn't want it to feel like a standup show or live music. She wanted to capture this person's story in the most authentic and realistic way. We weren't trying to apply anything on top of it; we were just trying to present it in a way that felt true to the work and emulated what it felt like when we saw the show. That was our guiding light."
Sprenger's prep time was "very quick," he says. "All in, it was a little less than a week. There were some meetings with Mari and Heidi and all the department heads, and then Mari and I spent a couple of days watching a crude bird's-eye-view recording of the Broadway show and talking about coverage and lighting."
In positioning their cameras and making adjustments to the live show's lighting, the filmmakers worked with stage director Oliver Butler and the theatrical crew. "We didn't want the show to be so affected that the people who paid for tickets were getting something different," Sprenger says. "The stage team was there to preserve the authenticity of what the show should feel like for the live audience, and we were there to make it work for an audience at home."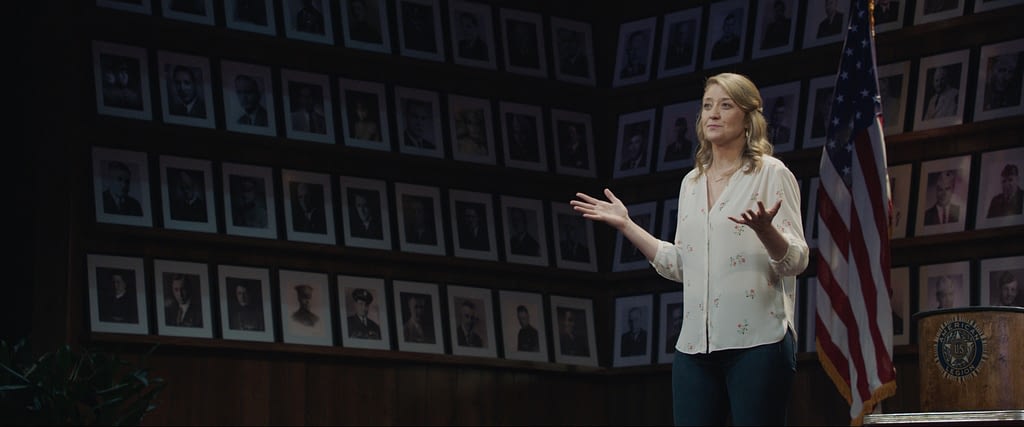 During the performances, Sprenger, Heller and others huddled with a bank of monitors in a small storage area beneath the stage. "That was the only place that wasn't a fire-lane obstruction where we could speak and not be heard by the audience," the cinematographer explains. From that position, he and Heller called the show live, communicating over comms with the six camera operators. "We didn't have a shot list per se, but we had a timeline of where we were going to be when in the show, so we knew what directions to give everyone," Sprenger says. "We planned as much as we could and then kept track of it during the first show so that on the next show we could either try to nail it better or do something different to give us an option in the edit."
Once the edit was locked and had made its way to Bodner, he and Sprenger began their collaboration over the phone. "Christian and I spoke a couple of times about the look and what he wanted, I colored some reference stills, and I sent them out to him and Mari," Bodner recalls.
With notes from Sprenger and Heller, Bodner then did a first pass on the project, after which he and the cinematographer worked for a day in a remote session. "Steven colored from his system at home while I looked at an iPad Pro from my home," the cinematographer explains. "And then we did a second day of color with Mari and Heidi, watching it through together and making some final tweaks. Everyone had an iPad Pro feed, and we had a separate call going over Google Meet. It worked out great. I really like the iPad Pro because it's a standard that my eyes are very used to. I travel a lot and watch a lot of dailies on my iPad Pro, so I know what I'm looking at in terms of what a proper exposure is or what a color should look like.
"Light Iron did a fantastic job coordinating everything, setting up how we were going to communicate and testing the live feed," Sprenger continues. "We were all over the U.S., and everyone had a live feed and was able to give notes. It was great. I think this is going to become the new standard because it's quite rare that everyone can make it to the color session at the same time. I try to be involved in all of my color sessions, and I'm excited by the fact that I can now color remotely from a hotel room as opposed to having to be in L.A. or New York."
Bodner adds, "We were using Streambox for the feed to the iPad Pros. We mastered in Rec 709, and then the HDR was a trim afterwards."
The colorist has been working from home since March, when, he recalls, plans to move Light Iron's staff off-site in response to the pandemic got underway on a Wednesday, and by that Friday he was up and running in his dining room. In the months since, he says, "I've done at least 40-something episodes and two features.
"My dining-room table is fully extended and full of gear," the colorist continues, laughing. "I have a full 4K HDR setup at my home. I'm running a Mac desktop with Resolve on it. I have my full Resolve panel and a three-monitor setup with a Sony X300, my Mac monitor, and a separate monitor for my scopes. I also have KRK speakers and about 50TB of encrypted storage."
The final grade for What the Constitution Means to Me took place this September, ahead of the project's streaming premiere on Oct. 16. "Mari and I wanted to keep it very clean and not too video-y, with a premium look and feel," Sprenger explains. Bodner adds, "They wanted something naturalistic. Christian and Mari didn't want anything too poppy or contrasty or crazy-colorful." To that end, the cinematographer and colorist brought down the saturation on the set's wood paneling and in the blue stage lighting that underscored certain moments of the live performance. Additionally, given the real theater setting, "We had to pull down every exit sign throughout the whole show," Bodner notes.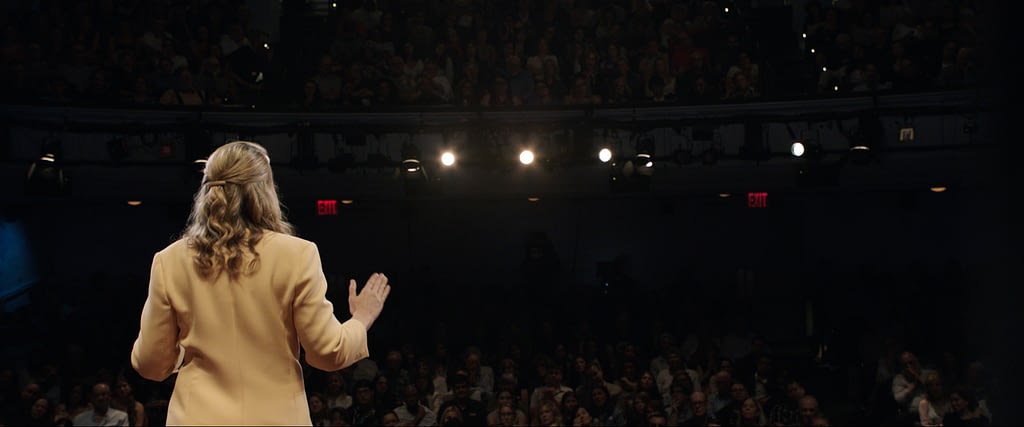 Careful attention was also paid to balancing reaction shots of the audience, which appear throughout the movie but were often taken from different portions of the show than where they ultimately landed in the edit. "That was probably the biggest thing we had to work on," Bodner says, "trying to adjust the lighting of the audience shots to match where they were cutting into the movie so they would feel like they were part of the show."
The movie also incorporates the occasional wide shot that shows both the stage and the audience. In those instances, Bodner says, "Depending on what was happening onstage, they would sometimes have me bring the audience down, or other times they asked me to pull them up."
As a finishing touch, the colorist continues, "we added a very subtle amount of grain. That was partially for texture and also to help integrate some of the darker footage that we were stretching a bit."
At the end of the day, Bodner reports, "It was a fun project to be a part of." Sprenger agrees, adding, "I hope everyone goes out and watches this. There's a really important, universal message, and it asks some very big questions that we don't feel very comfortable asking in our society. I think it's important to try to motivate those discussions."