Source: British Cinematographer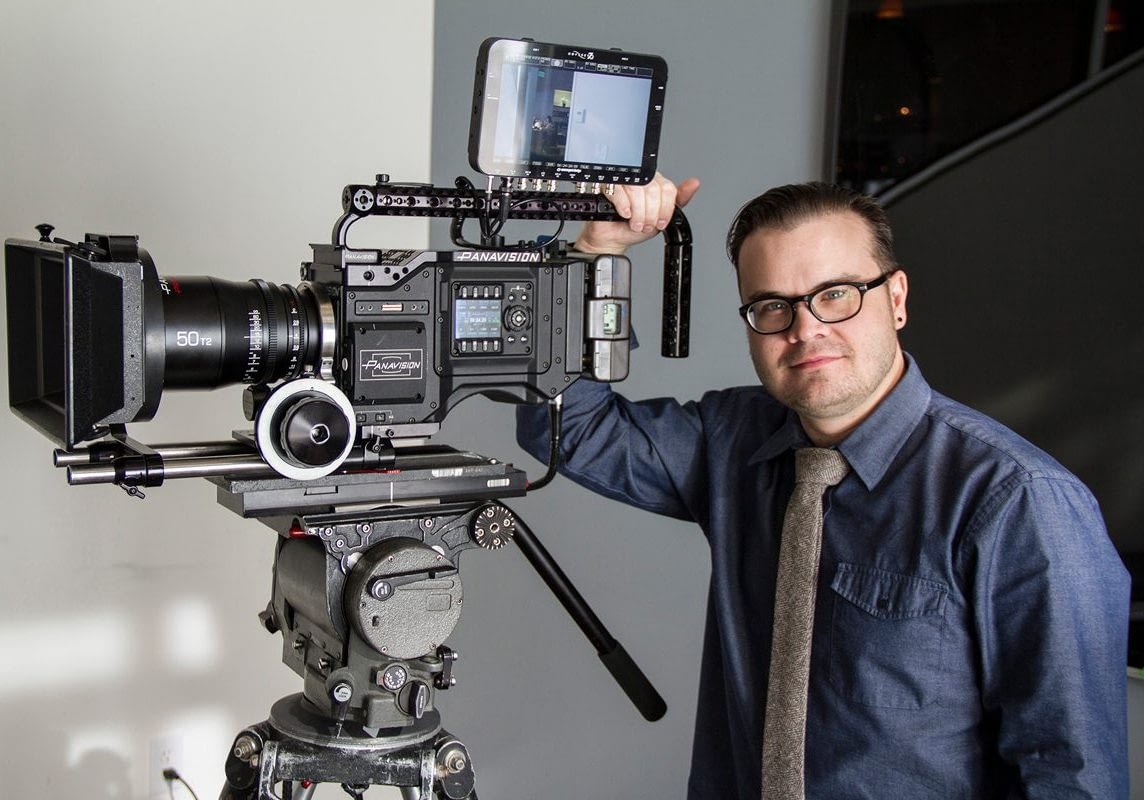 IT TAKES A SPECIAL KIND OF BLOODY MINDEDNESS AND VISION TO SUCCEED WHEN ALL ABOUT YOU ARE PREDICTING FAILURE, BUT THEN FEW PEOPLE POSSESS THE PASSION AND RELENTLESS DETERMINATION OF MICHAEL CIONI.
The president and co-founder of digital post-production pioneer Light Iron is about to make another splash when Panavision's digital cinematography camera, the Millennium DXL, launches commercially this winter.
As significant as this product could be, it is likely far from the pinnacle of a career forged by two watershed moments.
Growing up in Chicago, Cioni was intrigued by his father's work as an animator. He recalls how, after school, he watched his father create animated cell drawings for commercials featuring the Ninja Turtles or Care Bears. With his mother he used to visit the local Eastman Kodak plant to collect newly developed rolls of film and deliver them to his father's company, Cioni Artworks.
"Sometimes he would let me expose one frame of a film for a commercial on his two-story animation stand," says Cioni. "As a kid I got introduced to technology and creativity working hand-in-hand. That's a powerful combination. The process of cell animation – which is akin to stop-motion – is hyper-technical, but drawing cartoon characters and giving them personality is hyper-creative. I began then to recognise the benefits of merging the two, and later saw a changing ecosystem in which the technical and creative worlds drew even closer together. Defining this is critical for the next generation, and is why I created a word to describe those of us who understand today's balance between technology and creativity: 'technatives'."
He adds, "I believe the next generation of greats in the motion picture industry are going to be in equal parts, technically-minded and creatively-minded. In the past, these disciplines have traditionally been separated, but this will not be the case in a heavily automated, highly-complex and competitive future. The most important advice I can give future filmmakers is to approach the creative process with a technologically open mind."
"I was very fortunate to be at college studying film at a time when digital cinema started to emerge," he says. "My friends and I were hungry to get our hands on new digital technology, and did everything we could to learn about it and manipulate it to our advantage."
And this they did, using student loans and money gifted from their families to purchase a complete digital filmmaking kit including an Apple G3, Final Cut Pro, a Sony PD150 DVCam camcorder and a FireWire infrastructure to integrate it all together.
The university, however, was unimpressed. "We were producing short films out of our apartment of better quality than anything made on the school's expensive equipment. Our editing systems were better, our cameras were better and we authoured our first of many advanced digital workflows. It was new, organic and grassroots. Just a bunch of film students discovering an entirely new way to create stories with professors that couldn't comprehend what was happening. I remember being told on more than one occasion that if I used Final Cut Pro and my PDF150 to do a class project I would be failed. I, of course, did it anyway."
As college juniors, Cioni and friend Ian Vertovec subsequently won a Student Emmy and Kodak's Emerging Filmmaker program in 2000 using their DIY digital kit. When they were invited to the Cannes Film Festival, they had to choose whether to go or miss all-important end of year exams.
"Some of our film school teachers were so troubled with our renegade success they didn't consider the Cannes Film Festival an excuse to postpone the exam, and so when we went, we failed most of our junior year classes," says Cioni.
"I BELIEVE THE NEXT GENERATION OF GREATS IN THE MOTION PICTURE INDUSTRY ARE GOING TO BE IN EQUAL PARTS, TECHNICALLY-MINDED AND CREATIVELY-MINDED."
– MICHAEL CIONI
Undeterred, the duo and their team ended up winning the same awards the following year with the same outcome. A trip to Cannes met with failed final exams. Soon after, they quit college without having graduated.
"As a twenty-year-old, I learned a great lesson: that people generally prefer things to change slowly or not at all," reflects Cioni. "To those dependent on the status quo, rapid change is like the friction on an active fault line. Seeing that Luddite mentality at an early age prepared me to push for innovation even when others resist it. I learned that my technative instincts can have a significant impact on telling stories, and that there were other filmmakers interested in that too."
So successful was the tyro filmmaker that the news entertainment programme he directed with Vertovec and friends while at SIU, 'alt.news 26:46', won five Emmys in its first two seasons (the show still airs on PBS and has gone on to win 13 more Emmys).
Naively perhaps, in 2001 Cioni thought taking his passion for digital cinema from a small town in America's midwest to the Hollywood elite would be easy. "We figured we'd go to Hollywood and get jobs with everyone else who is excited about this new technology! But to our surprise, Hollywood's leaders were a lot like the faculty at SIU; they didn't like the idea of digital cinema either. Instead of being welcomed with lots of opportunity, we had to work on our own to find like-minded people who recognised that a digital tipping point was approaching."
They first partnered with director Christopher Coppola and together formed PlasterCITY Digital Post in 2003. It opened with an office on Hollywood and Vine and grew over six years to be one of the most significant digital desktop-based post houses in the world.
"When we started there were only a few filmmakers that embraced an end-to-end digital workflow," he remarks. "George Lucas set the stage with Star Wars Episode II using a Panavised Sony F900. Then filmmakers like David Fincher, Michael Mann and Robert Rodriguez started building their own pipelines for digital experimentation. For our business, it was indie filmmakers who loved digital because they were willing to try anything to save money and still have a professionally looking product. But we knew the time when mainstream cinema would start adopting digital was just around the corner, and in 2006 RED Digital Cinema became the catalyst we needed."
"When RED started, there were many who publicly argued their camera had no professional merit" he says. "But it wasn't necessarily the actual camera they had issues with, it was that the product represented a change in the market's pre-established power and control. When powerful people are met with disruptive innovations, they tend to resist significant changes that have the potential to negatively affect their interests. The bad news for entrepreneurs is that there will always be credible critics in a changing market (which makes it hard to know who to trust if you're on the fence). But the good news is that everyone gets exposed to these new ideas. Those who once said they'd never shoot digital are now preaching to others to convert. It's because of the companies who willingly took a lot of the risk that shooting digital is no longer taboo."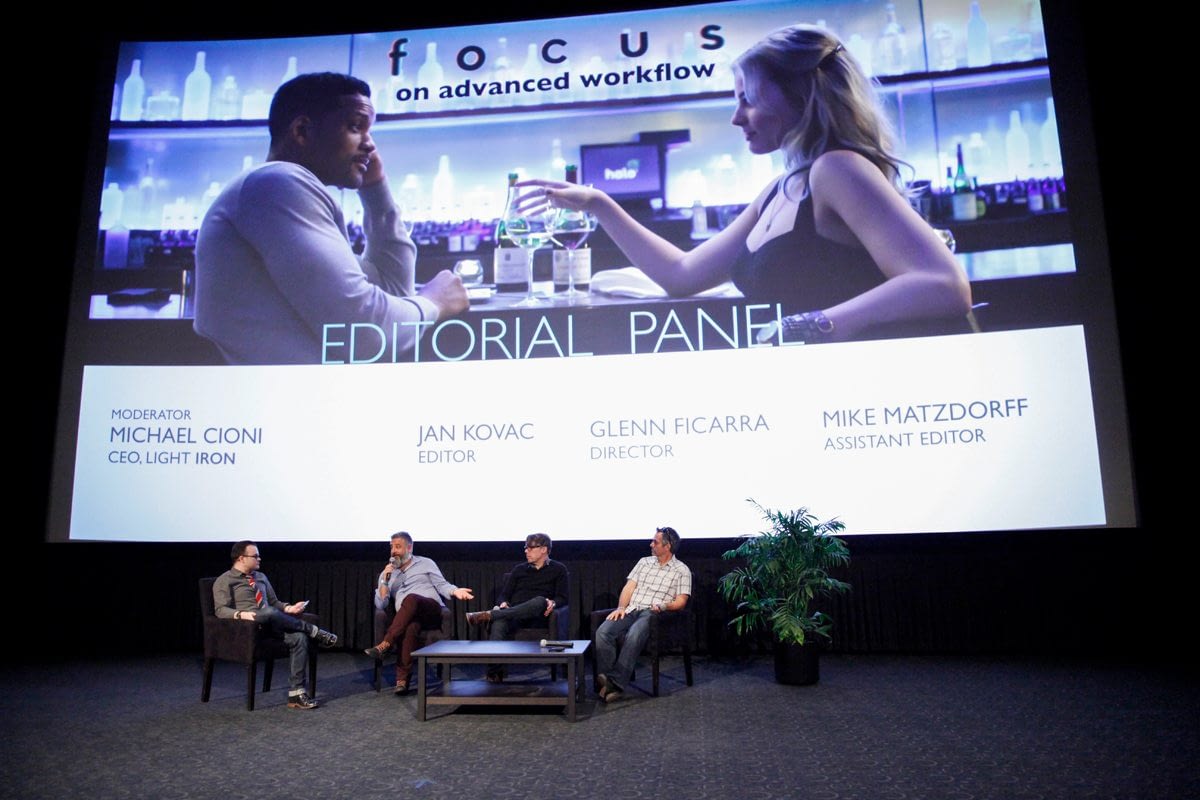 The Light Iron Focus event held at Arclight Cinemas in 2015
In 2009 Cioni and Vertovec, along with Cioni's brother Peter, struck out on their own and set up a fresh file-based 4K facility. "The concept was to marry the desktop efficiencies of the indie world with the industrial needs of massive studio productions. Merging the light with the heavy iron if you will.
"Even though the financial market was a terrible time to start a new business, we were seeing more traction toward file-based filmmaking, so we offered a house built on support for tapeless workflows like RED and ARRI Alexa."
The facility quickly grew, prompting an expansion into New York with the acquisition of OffHollywood's Manhattan assets, and taking the facilities' expertise on location with a series of international mobile laboratories called Outpost.
"Suddenly we were servicing a dozen major tentpole releases because the incumbent facilities were simply not as well-equipped to handle 3D or high-resolution data in the field. We were doing head-to-head tests with major competitors, whose army of engineers would still be downloading while our footage was already on the cinematographer's iPad. We thought to ourselves, 'we were born and bred to do this stuff.'"
 Over the years, Cioni has amassed credits on over 200 digital shows including Gone Girl, Pirates Of the Caribbean IV, The Walk and The Amazing Spider-Man.
When Panavision came looking to diversify its business, Cioni saw a prime opportunity to expand. The acquisition in December 2014 brought Light Iron's archiving workflow, creative services and colour science into the Panavision fold. And, it also sparked an idea for a new camera system built for both production and post-production.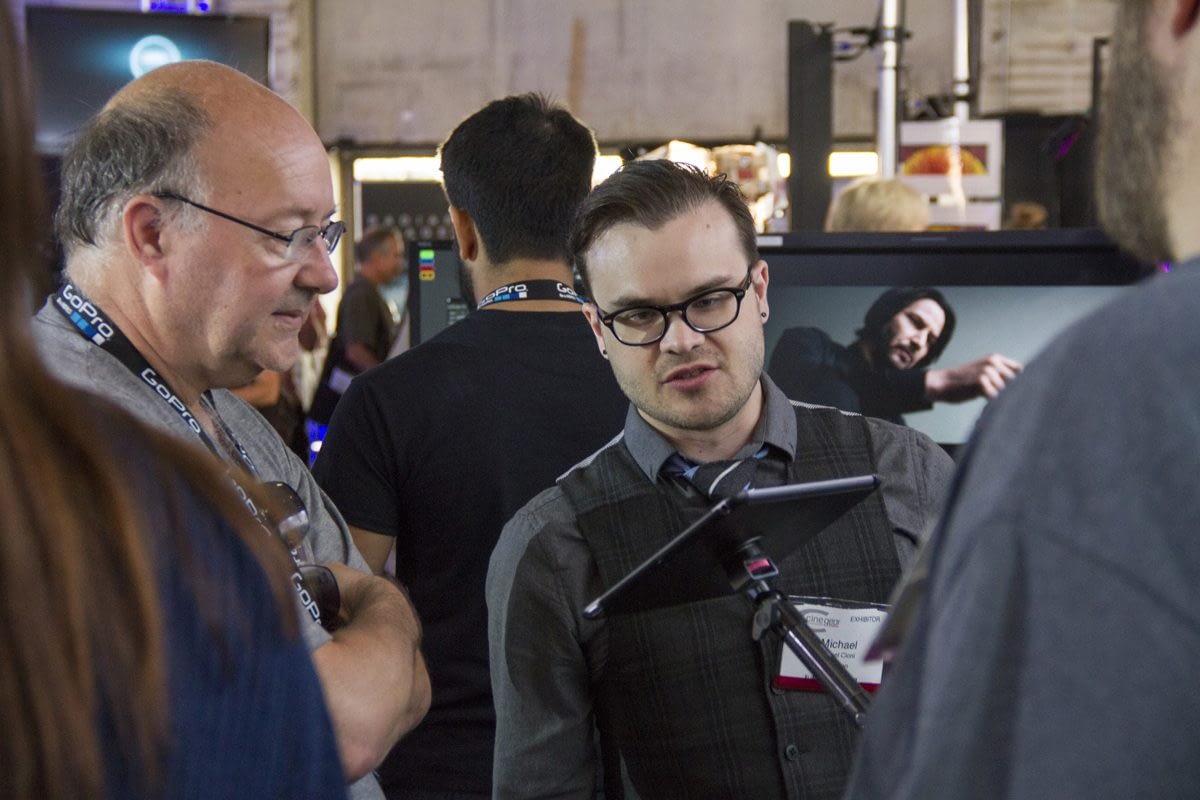 The Millennium DXL, in terms of resolution, pixel pitch, lensing, ergonomics, workflow, accessories and electronics, is designed to be the most advanced digital cinema camera ever made. It's a super-computer with modular accessories and superior RED electronics. But that's not the only reason this camera is so special.
"It's the most advanced camera ever because it is not built for today's needs; rather we are concerned about what the needs of tomorrow are going to look like," says Cioni. "It's also not just designed for the cinematographer, but also for the camera assistant, VFX supervisors, editors, and even for downstream delivery to OTT platforms like Netflix, Amazon, Hulu and HBO. When you get up close and personal with the DXL, you'll see how many people were considered when building this product.
"DXL's 8K Weapon sensor provides incredible resolution and dynamic range. In addition, Panavision's custom toolset and Light Iron's colour science and end-to-end workflow, including wider colour gamut, contribute to the expectation for high rental demand.
"Some people like high resolution for the ability to re-zoom and reframe, or better tracking. Some like HDR to make an image look more three-dimensional. And other people's preference is for wider colour to help the picture seem more realistic. But the truth is, it's the combination of the three that make a picture truly fantastic.
"Very few people have seen all three of these powerful elements put together in a single image because the cameras, displays and projection systems aren't totally available yet. These technologies are still emerging. But the DXL already allows you to shoot content ready for that market change. And our future DXL roadmap is even more exciting. We're building a camera system that has the ability to make pictures as unique as your own fingerprints. That's where the DXL is going and when you look at the big picture, the DXL is something no one has ever done before."
"Thinking back, my interest in innovation has only increased since I was a teenager. I love to focus on possibility, regardless of the size of the challenge before me. The fuel for innovation is different for everyone. For me, it's a deep desire to keep an open mind and always being willing to share what I've found with the world."